The Hartford Land Bank identifies and acquires vacant, abandoned, tax-delinquent and/or distressed properties in the City of Hartford, Connecticut, to steward their rehabilitation and return to productive community assets. Hartford Land Bank, Inc. is a non-profit corporation.
Arunan Arulampalam, Chief Executive Officer
Arunan Arulampalam is the current CEO of the Hartford Land Bank. Previously he served as Deputy Commissioner for the Connecticut Department of Consumer Protection, and as a Corporate Attorney at the Hartford-based law firm of Updike, Kelly & Spellacy, P.C. He lives in Hartford with his wife and four children and serves on the Boards of the Hartford Public Library and Forge City Works, the Community Advisory Committee of the Connecticut Health Foundation, and as a Commissioner on the Hartford Redevelopment Authority and the Charter Review Commission. Arunan earned his B.A. in International Studies from Emory University and his J.D. from Quinnipiac University School of Law.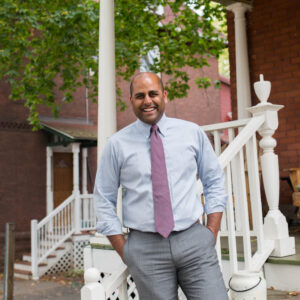 Staff
Yahaira Escribano, Finance & Programs Officer
Yahaira Escribano is the Finance & Programs Officer for the Hartford Land Bank.
She was born, raised, and still resides in the North End of Hartford. Yahaira was the first person in her family to make it past the tenth grade, eventually earning a B.S. degree in Urban and Community Studies and a Master's degree in Public Administration, both from the University of Connecticut.
For the past several years, Yahaira has connected local residents with needed nutritional assistance through her work at CT Foodshare and local students with educational scholarships through her work with the Hartford Promise. She wants to continue building bridges between community members and the assistance they may need to not just survive but thrive. In her new role at the Land Bank, Yahaira will do that by helping to create a sustainable pipeline of local developers and homeowners. She eventually wants to become a homeowner herself in her beloved North End community.
Yahaira deeply believes the Hartford Land Bank can be a catalyst for community members to create generational wealth and break the cycle of poverty, particularly in North End neighborhoods.
Tyler Havens, Construction & Programs Manager
Formerly the Hartford Land Bank's Community & Program Intern, Tyler is HLB's Construction & Programs Manager.
Tyler grew up in Hartford County and obtained a B.S. in Business Management from Providence College. Concurrent with his internship at HLB, Tyler pursued and received his M.A. in Public Administration from UConn, with a focus on diversity, equity, and inclusion.  He also served as a Graduate Assistant for UConn's Innovation House and worked as a consultant for Keney Park prior to his internship.
Prior to joining HLB he was involved in various AmeriCorps programs, completing two years of volunteer service across the U.S. then moving to New Orleans, LA.
In his role with Rebuilding Together New Orleans, Tyler performed home renovations for low-income, elderly, and disabled homeowners. He saw firsthand how property rehabilitation and home ownership strengthened communities and he aims to continue these efforts in Hartford.
In another post-AmeriCorps role as the Volunteer Manager at New Orleans City Park, Tyler worked with community volunteers to perform a variety of park improvement projects with the intention to create a more inviting public space for all people to utilize. Tyler believes strongly in the importance of engaging communities, gathering citizen input, and accessibility to green space.
With prior experience in home building, conservation, and public policy, he is eager to help build a more just future for Hartford citizens and surrounding communities.
Board of Directors
Melvyn Colon, Chairperson
Melvyn is the Executive Director of Southside Institutions Neighborhood Alliance and lives in the South End neighborhood of Hartford.
Steve Harris, Vice Chairperson
Steve is a retired City of Hartford firefighter and lives in the Northeast neighborhood of Hartford.
Jim Horan
Jim is Executive Director of Local Initiatives Support Corporation.
Judith Rothschild
Judith is the Director of Blight Remediation for the City of Hartford.
Violette Haldane
Violette is a realtor serving the Greater Hartford community.
Georgiana 'Jean' Holloway
Jean is a Commissioner of the Metropolitan District Commission. She lives in the Clay Arsenal neighborhood of Hartford, where she is Vice Chair of the Clay Arsenal Neighborhood Revitalization Zone.
Emily Wolfe
Emily is Executive Director of Sheldon Oak Central, Inc.
Jen Hockenhull, CPA
Jen currently serves as the Director of Finance for Adult Congenital Heart Assocation, a national non-profit organization and lives in the West End of Hartford.